The Interporto Quadrante Europa of Verona is committed to controlling access to the entire infrastructure, buildings and personnel on a daily basis. State-of-the-art and constantly updated monitoring systems and procedures allow companies operating within it to manage their business with high standards of efficiency and internal safety.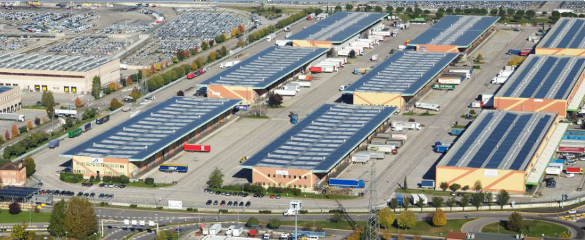 The Shipping Center extends over an entirely fenced-in area, with an access gate equipped with TELEPASS technology, an automatic video surveillance and access authorization system, which controls the incoming and outgoing vehicles. The system also allows companies to control and authorize their vehicles to enter and exit.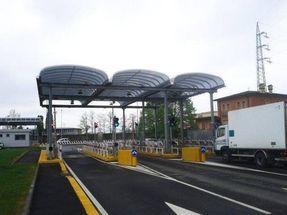 The access gate, characterized by 6 lanes (3 incoming/ 3 outgoing) with 20 cameras, improves mobility in and out and the accessibility to all warehouses and infrastructure services.
A 24-hour operational surveillance system and a circuit of over 100 cameras located in strategic points of the Interporto further increase the level of internal security.
A special gate for the entry of emergency vehicles completes the safety of the employees who work every day at the Interporto companies.
The Interporto Quadrante Europa of Verona manages its processes in compliance with the international standard IEC 60839-11-1:2013 (Alarm and electronic security systems ).
QE Access Gate
Tel. 045 - 8646107
email: This email address is being protected from spambots. You need JavaScript enabled to view it.
Ticket authorization: http://controllo.qevr.it
Install the Quadrante Europa Ticket app to authorize tickets easily from your smartphone!