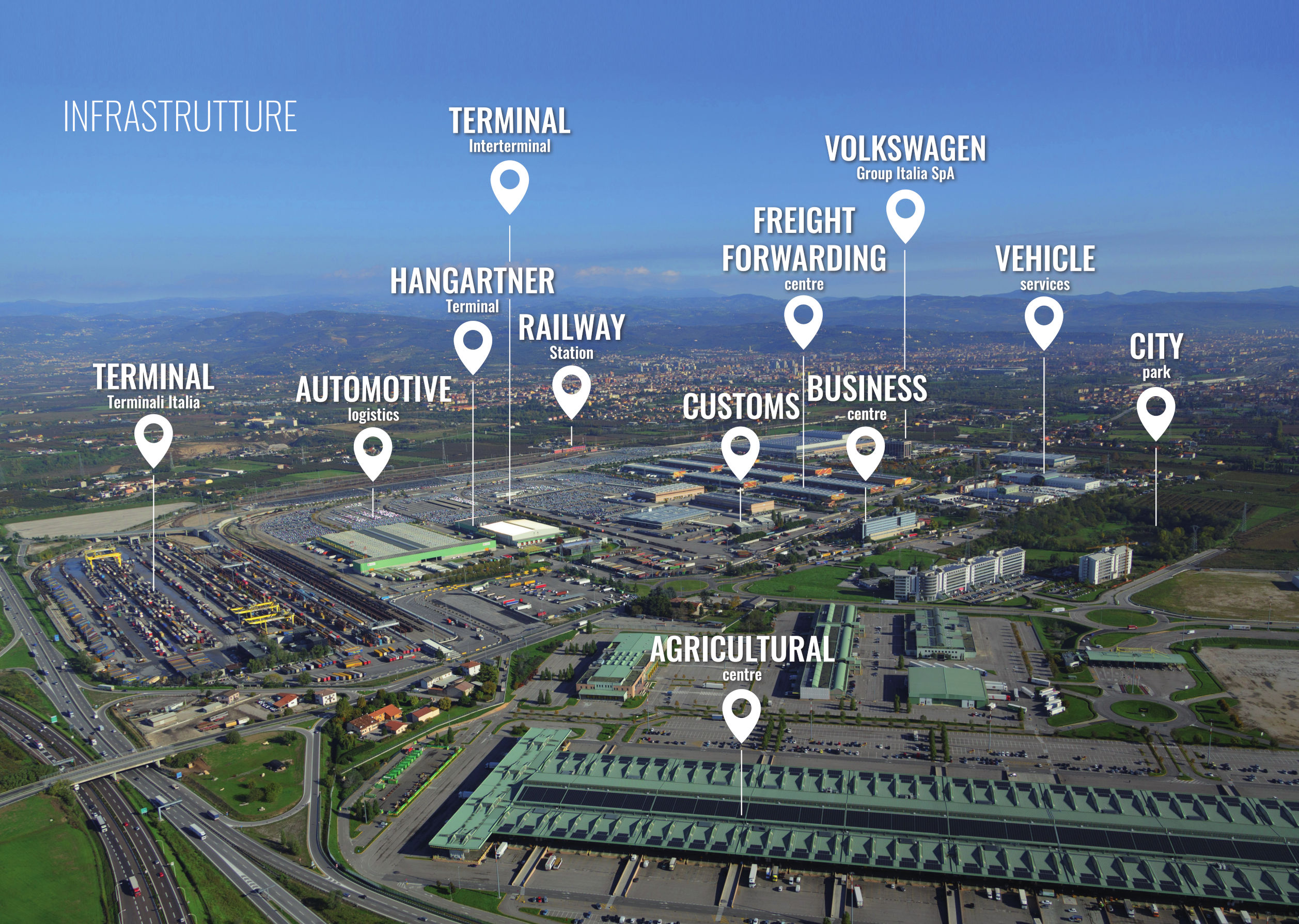 The Verona Quadrante Europa Intermodal Terminal, the flagship of Terminali Italia, is located on an area of about 240,000 square meters divided into 3 modules with a total of 15 unit loading and unloading tracks.


A yard covering an area of about 60,000 square meters on which 3 "level" railway tracks of 600 m each are drowned; 4 destinations served (Rostock - Kiel - Bremen - Hanover) with a frequency of 30 pairs per week.



Quadrante Servizi is the only railway shunting operator within the area of the Interporto Quadrante Europa.The decision to have a single shunting operator has significantly increased terminal efficiency, reducing congestion in the internal rail network.



It covers an area of 14,000 square meters with a vehicle assistance center suitable for carrying out all emergency mechanical operations, fuel distribution and washing.

Consisting of 11 blocks of warehouses on a covered area of 80,000 square meters, it is a controlled and protected area equipped with an access control system and an automatic public weighing service.


The Customs Agency is located on an area of 15,000 square meters with yards used as areas for import and export, with loading and unloading dock.

The Business Centre covers an area of 30,000 square meters and houses the headquarters of Consorzio ZAI, Quadrante Servizi and Zailog, as well as the offices of transport operators and the Customs Chemical Laboratory.



With an area of 550,000 square meters, Veronamercato ranks among the first wholesale markets in Italy and first in Veneto. Within the area the Agri-Business Centre hosts the trade of fruit and vegetables, meat and fish products.


The area, which covers 150,000 square meters, houses the VW Group Italia office building and the logistic warehouses connected for the handling of the group's spare parts throughout the country.

A disused quarry of 70,000 square meters redeveloped as a public park by Consorzio ZAI for the benefit of Verona citizens.